Laurel's Crown Farmstead Recipe: Strawberry-Lemon Pastry with Fromage Blanc & Honey Drizzle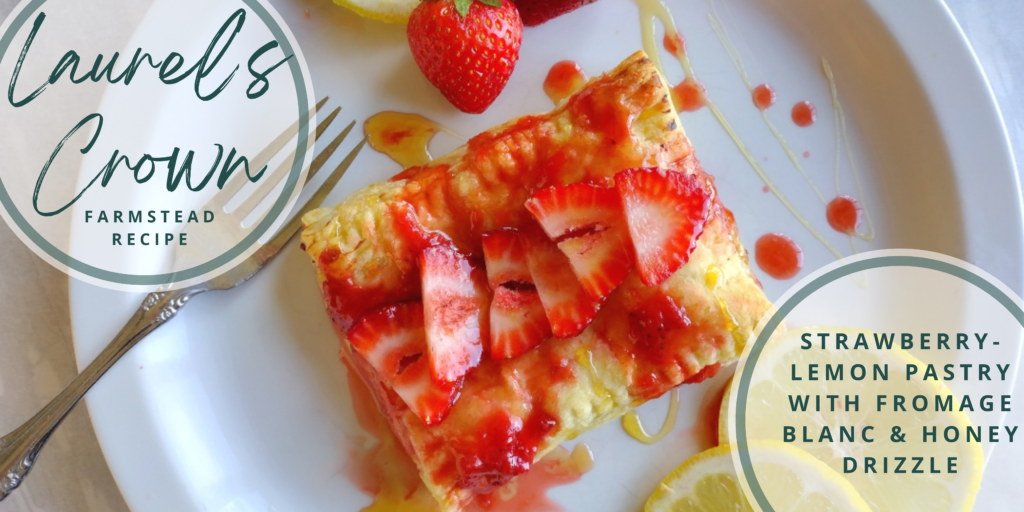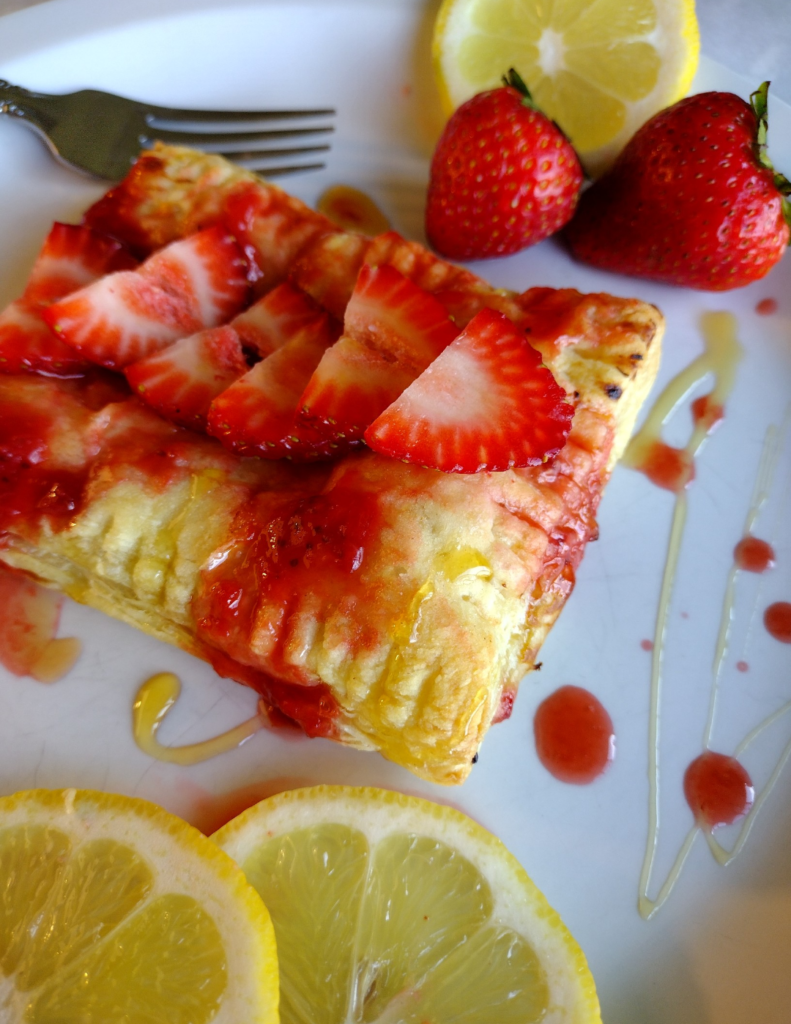 Summer is half way over….can you believe it?! Our farmstead is growing in leaps and bounds with the house well underway and a full schedule of local Chelan summer markets. We have been honing our Laurel's Crown classics for some time now and this year Laurie has added in TWO new goodies: a tangy Farmstead Feta & a smooth, versatile Fromage Blanc. We are loving the feta, however our Fromage Blanc gets the recipe spotlight today!

Fromage Blanc is a fresh, creamy, spreadable cheese most of the time made from cows milk (in our case with the help of our beautiful Jersey Girls!). It easily takes on both sweet or savory profiles which we are taking advantage of with our recipe today by pairing it with our fresh strawberry-lemon pie filling and some honey from our bee friends!
A few notes:
For the sake of time we used pre-made puff pastry, but scratch-made is a delicious and worthy alternative!
If using a frozen puff pastry, allow at least 30-40 minutes to defrost.
We used brown sugar for some added richness in our strawberry-lemon filling, but it may be substituted for a variety of options (I.e. white sugar, honey, agave, sugar substitute…). Just make sure you taste as you go!
For a thicker pie filling, add an additional 1-2 tsp of cornstarch to your filling (pre-mixed in ice cold water!).
Laurel's Crown Farmstead Recipe:
Strawberry-Lemon Pastry with Fromage Blanc & Honey Drizzle
ingredients:
2 cup fresh strawberries, quartered
1/3 C brown sugar
1/3 C water
1/2 C lemon juice
1/2 C fresh Laurel's Crown Fromage Blanc
1 Tablespoon cornstarch
1/4 C cold water
Puff pastry: Homemade or store-bought
Additional strawberries for garnish, thinly sliced
Honey for drizzle
Whip cream *optional

instructions:
2 sheets of puff pastry made 6 pockets.
Preheat your oven according to the puff pastry instructions. Line a cookie sheet with parchment and set aside.
In a medium saucepan, stir together strawberries, brown sugar, water & lemon juice. Allow to simmer on medium heat for 20-25 minutes or until the strawberries begin to break down. In a small bowl combine cornstarch and water, whisk until dissolved. Pour into strawberry mixture and continue to simmer until it begins to thicken. Once thickened, remove from heat.
Once cooled, fold strawberry mixture 1-2 Tablespoons at a time into the Fromage Blanc until desired flavor (5-6 Tablespoons for ours, there will be leftover strawberry!) Avoid over mixing. Cover and place in the fridge to chill approximately 30 min.
Just prior to removing your strawberry mixture from the fridge, prepare your puff pastry. On a cutting board, lay out the puff pastry and cut into approximately 3×4 in rectangles. If using sheets, cut into 6 equal pieces. Spoon 3-4 Tablespoons of the fromage mixture onto a pastry rectangle and stack a second sheet on top. Using a fork, score the edges all the way around, gently flatten pocket evenly and place onto the cookie sheet. Do not crowd.
Bake according to puff pastry instructions, remove and allow to cool slightly before serving. Top with remaining strawberry mixture, honey drizzle and fresh strawberries for garnish. Whip cream is optional, but delicious!
Enjoy!